A Modern Map of northern Bukovina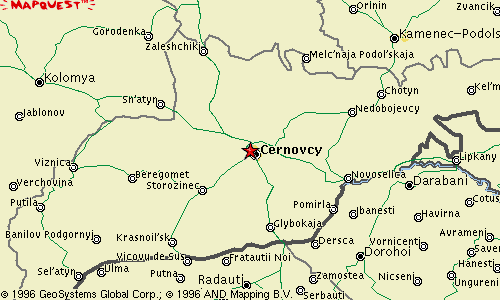 Posted October 21, 1996

This map shows the northern half of Bukovina, which is now the Chernivtsi oblast of Ukraine. Besides Cernovcy (formerly Czernowitz, the old capital of Bukovina), this maps shows other Bukovina towns including Storozinec (Storozynetz) and Glybokaja (Hliboka). Sn'atyn and other towns to the northwest used to be in the Austrian province of Galicia.

The image for this map has been provided by the MapQuest Interactive Mapping Service.
Technical details: the map is centered on the town of Chernivtsi, Ukraine, at zoom level 5.
Visitors since May 1, 2002 Last Revised: 12/22/06 11:01:28 PM