A Modern Map of southern Bukovina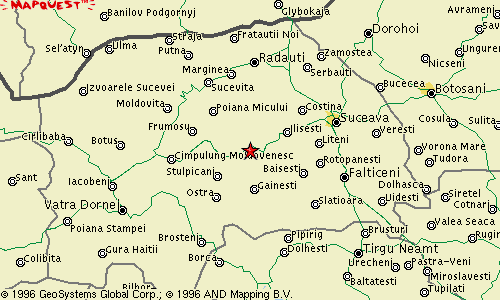 Posted October 21, 1996

This map shows the southern half of Bukovina, which is now the Judetul (county) of Suceava, in Romania. All the towns from Poiana Stampei in the west to Suceava (Suczawa) in the east, and north to the Ukrainian border, were once part of Bukovina. Although it is not listed, the star on this map is on the town of Gura Humorului (Gurahumora), which now includes the old Bohemian German village of Bori. Many other towns and villages are also not listed, but can be seen by using the MapQuest Interactive Atlas.

The image for this map has been provided by the MapQuest Interactive Mapping Service.
Technical details: the map is centered on the town of Gura Humorului, Romania, at zoom level 5.
Visitors since May 1, 2002 Last Revised: 09/25/13 09:09:31 PM