Bukovina Ancestors in Uniform
Ferdinand Schuster
Born January 11, 1865 in Fürstenthal Bukowina - house # 160
Died July 21, 1912 in Ellis, Kansas
---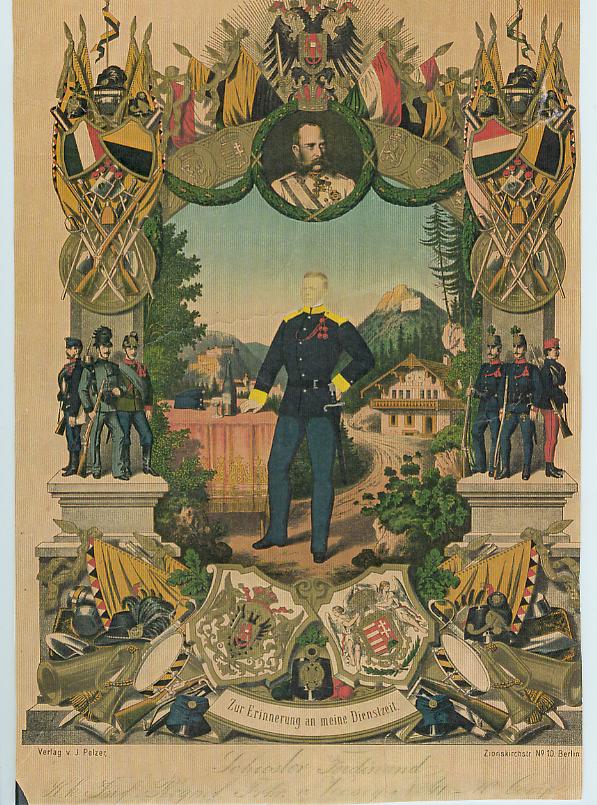 Zur Erinnerung an meine Dienstzeit
Schuster Ferdinand
K. k. (Kaiserlich und Königlich) Infantrie Regiment Freiherr ?????
In Memory of my time of service
Schuster Ferdinand
K. k. (Imperial and royal) Infantry Regiment Baron ?????

Ferdinand Schuster was born in Fürstenthal, Bukovina, in 1865. The date of the picture is unknown, but was taken prior to 1904, when he arrived at Ellis Island. The practice was to attach a picture of the person's face to a picture of the uniform, so only the head is actually Ferdinand.
A copy of a copy, the writing is difficult to read. "Freiherr" or "Baron" is a title of nobility; this word is then followed by the personal name of the individual for whom this regiment is named, which unfortunately, is illegible.
Ferdinand Schuster and Family pictured in 1918 Return to Main Page of Bukovina Uniforms
visitors since July 21, 2004 Last Revised: 09/25/13 09:08:43 PM