---
Ray Haneke, President
Oren Windholz, Vice President
Joe Erbert, Secretary
Bernie Zerfas, Treasurer

(This copy of our Newsletter was called The BULLetin when originally published in paper form)

Oren Windholz, Editor
Editorial response to
P. O. Box 1083
Hays, KS 67601-1083
E-mail: windholz@bukovinasociety.org
---
DIALECT PRESERVATION
Prof. Dr. Kurt Rein traveled from Munich to the Bukovina Society headquarters in March. His first trip here was in May of 1992, and he was recognized and well received by all of his friends in the Ellis area. The board of directors honored him with a German dinner at Alloway's Restaurant and a public reception at the museum. He gave a presentation to the assembly on the progress of the Emigration to America from Bukovina project of the Bukowina Institut in Augsburg. His talk brought out information discovered in the newly opened archives in Czernowitz, the former capital of Bukovina. The Institut plans to publish the first results of the project this spring. This will include research to date and the contributions from Bukovina colonies in Canada, Washington, New York, and Kansas. The entire project will take several years to complete with the intention of publication in both the German and English languages.
Dr. Rein was assisted during the four day visit by Gabi Lunte, a doctoral student at the University of Kansas, in recording the dialects of the Bukovina German descendants in the area. Ms Lunte is a native of Northern Germany and received her college degree there. She completed her Masters at K. U. and the dialect study is a part of her doctoral program. In cooperation with Dr. William Keel, Ms. Lunte will make more field visits to Ellis. She quickly made friends here and will be at home with her subjects of study and hosts. Dr. Keel was here to do research and establish contacts in January of this year.
Dr. Rein was very pleased with the people he met who have retained their ancestral dialects. Spoken among the Bukovina German immigrants to Ellis was the Swabian dialect of the Lutherans, and the Deutsch Boemish dialect of the Catholics. These dialects have been traced by the professors to the original homelands of the Bukovina Germans before migrating to Bukovina.
The balance of Dr. Rein's journey will take him to K. U. for a lecture, California, Canada, and Washington D.C. for research, and Austin for the annual meeting of the Society for German American Studies. In 1994 he will be a visiting professor at K. U. for a semester and plans more trips to Ellis.
---
Bukovina People
Marlys Bias, a life member from Riverton, Wyoming wrote that she found her great great grandfather, Jakob Glass, in the BULLetin from the Galveston, Texas ships passenger list. She sent for the microfilm through her local LDS Family History Branch in order to view the complete listing and found more interesting information. She purchased a copy of the complete ships passenger list, and donated a copy to the society for others to use. She plans to be back in Kansas for the Fifth Bukovinafest.
Larry Jensen wrote of his plans to visit the former homeland again this spring. Wilf Uhren had plans to visit the village where his father was born in the Ukraine on a trip to the Bukovina district. He wrote a note to Ray Haneke that it is in doubt at this time. Paul Polansky who organized the trip may instead go into the Czech Republic.
Steve Parke who made a trip to the Bukovina district in Romania in September of 1991 has provided the society with copies of his slides. These will be used to make a slide program for use at the headquarters and to area schools and organizations.
The Ellis County Historical Society has asked Oren Windholz to give a program on the Bukovina Society at their annual social meeting on June 9th. Anyone interested in attending can mark their calendar now and watch for the final details in the local newspapers.
Fr. Felix Petrovsky of Hays will be leading a pilgrimage to Slovakia and the Czech Republic October 5th through October 21st, 1993. Among the cities visited will be Warsaw, Krakow, Zilina, Bratislava, Brno, and Prague. Information is available through Hays Travel, Inc. in Hays.
---
FIFTH BUKOVINAFEST
The program and registration forms are enclosed with this mailing and will be made available through other outlets. The convention will be interesting and entertaining. We expect a good turnout again this year, and the Schoenthaler reunion will add to the activities. A form for the convention motel is being sent to those from out of the area. Any additional registration forms can be received by writing to the secretary. Please inform the secretary if you know of anyone we should include on the mailing list.
---
MUSEUM AND TOURIST NEWS
Whenever the doors are open, someone stops in from near or far. When the museum is closed, Ray Schoenthaler hustles down to open up and greet visitors with a talk and tour. Ray has been operating the museum and hopes to expand hours this summer. Ray has made folders containing a set of the society newsletters and other information for sale this year. The Hays Convention and Visitors Bureau will again stop at our headquarters for tours this season.
Oren Windholz has been appointed by Hays Mayor Joe Glassman to the board of the bureau. The Hays CVB was of great assistance in the early formation of the Bukovina Society. Most recently they made available a triple slide projector with synchronized audio for use at the headquarters.
---
BOOKS BOOKS BOOKS
Jacob Steigerwald donated his latest book Banat-ToPola's Schwaben:, 1791-1945 to the society through Irmgard Ellingson. He has other publications of interest and may be contacted at 355 W. 4th St. Winona, MN 55987.
Dr. Kurt Rein donated several publications to the Ethnic Center Bukovina collection at Ft. Hays University, and to the headquarters.
Bohemian Germans in Kansas: A Catholic Community from Bukovina will be available at the Fifth Bukovinafest.
Bukowina Families: 200 Years is a new publication from Almar Associates of Ellis, Kansas. This book covers the genealogy of many of the Catholic Bohemian families that emigrated to the Bukowina between the years of 1799 and 1842 and later emigrated to the United States, Germany and Brazil with reference to emigrees to Canada. This publication will be available at the annual Bukovina Festival in July, 1993. For additional information, please contact Almar Associates at 300 N. Washington St., Ellis, KS 67637 or telephone (913) 7264728 or (913) 625-6215.
---
SURNAME EXCHANGE
Doug Dale of Saskatchewan is well known to the Bukovina Society board members and spouses from their visit to Regina. His wife has Bukovina roots. He has stayed in contact with us as well as working with Dr. Kurt Rein on the Bukowina Institut Project.
He called and volunteered to send two full disks to the society from his data base of over two thousand names, those relating to his wife being of interest to Bukovina descendants. The disks are IBM 2.2, 3 1/2 inch, utilizing the Family History Center program. Society members may contact the editor for information or write to Doug at Box 386, Craik, Sask. SOG OVO, Canada.
---
Bukovina Humor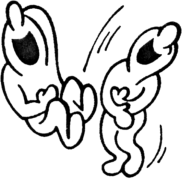 Martin Flax said his mother told many stories when they were growing up. He repeated this one to the editor at a recent society gathering.
A young widow was seen on Good Friday in the cemetery crying her eyes out for her recently departed husband. Finally some sympathetic friends came up to comfort her and told her not to grieve so much because she was young and could marry again. She looked up and said, "Ja one net fowa Oastern," (Yes, but not before Easter).
---
Lifetime Members
New members to the LIFER CLUB since last newsletter:
30. Mary (Baumgartner) Wyman, Brownell, Kansas
31. Robert R. Massier, Winnipeg, Manitoba, Canada
32. Wilfred P. Uhren Family, Tulsa, Oklahoma
33. William and Doris Hennig, Fairlawn, New Jersey
34. Vernena C. Bunker, Hays, Kansas
35. Jennie Chappell, Leawood, Kansas
Thanks for the support, your investment has increased the endowment for the future of our society.
---
California Czechoslovak Club
The founder of the society and editor of their club news publication, Kathryn Betlach Dankowski, wrote to ask about the Bukovina Society. She came into a copy of the BULLetin and is interested in learning about the Bohemian German Catholics. She sent their latest club news Noviny to us, a 16 page publication sent to their 400 plus members.
---
Bukovina Cooking
The Honas family held a reunion at the Fourth Bukovinafest and published a family history. This recipe is taken from the book and was a staple food of the Bukovina Germans the settlers brought to Kansas. It is listed as one of the main ethnic foods in Romania today. Many people remember growing up with this dish as standard fare around the house.
Mamaliga
Bring to boil 2 3/4 cups water

Combine:
1 cup corn meal
1 cup cold water
1 tsp salt
1 tsp sugar
Gradually add mixture to boiling water, stirring constantly.
Cook until thick, then cover and simmer over low heat for 10-15 minutes.
Pour into a 71/2 X 31/2 X 21/4 loaf pan. Cool.
After it is chilled, turn pan upside down and mush will slide out.
Cut into 1/2 inch slices and serve with strawberries or sliced cucumbers and cream.
For fried Mamaliga, slice thin and fry slowly in shortening until golden brown.
Top of Page Back to Newsletter List
Visitors since October 8, 2002 Last Revised: 12/22/06 11:01:10 PM